Golfthink In The News
Thai Muang Beach Golf & Marina
- The Little Guy of Phuket Golf
Story By Kim Inglis
Photographs Courtesy Thai Muang Beach
W
hen golf and Phuket are mentioned in the same sentence, a certain 36-hole course is usually mentioned with boringly predictable superlatives, which today flatter a course that was once the undisputed number 1 in Thailand. Well this one's for the "little guy" of Phuket golf - little known Thai Muang Beach Golf Course. Here, less really is less. Little has been written, advertised or spent on Thai Muang Beach Golf Course, and it's on the lesser-known Phangna Island of Phuket. Even lesser-known Perry Dye (Dye Designs) designed this course, but came up big with this exciting 18 hole par 72 sea-side layout on Thailand's Andaman Ocean.
The course has several memorable holes which include the short Par 5 9th, a dogleg left meandering along one of the many waterways throughout the course. The hole sets up for two or three hard draws depending on how far you hit it, and either way your approach is too a tightly guarded green. Bail out right on the safe side and you're likely to leave yourself with a somewhat harrowing chip or pitch off a downhill lie to a very narrow green protected by water at the back. There are two great risk-reward par 4's on the back nine. The 284 yard12th is reachable for longer hitters but going for it wouldn't be considered unless you're having a social round. Both myself and fellow Professional were having just that and knocked it on but had to make 15 footers for birdie after poor first putts. The 15th is also reachable but with several large mounds protecting the front of the green and water on the right, the smart play is to lay up with a middle iron or long iron and leave yourself an easy wedge into this small green. This leaves players with quite possibly the best trio of holes in Thailand.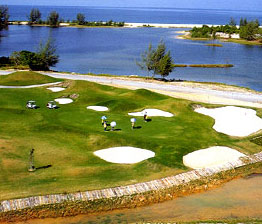 The dogleg left Par 5th 16th is reachable in two for even average length hitters and longer hitters can be left with a medium or short iron into a large, and somewhat inviting green. The Par 3 17th is played into a difficult-to-judge wind that blows off the Andaman Ocean. The hole design has been set up for a soft draw, but with the prevailing wind blowing from right to left the conditions leave you a little dumbfounded about what kind of shot too hit. This is one of the best, if not the best short Par 3 in Thailand and somewhat inappropriately, or perhaps cleverly nicknamed "The Lady" (as it can be a real B _ T _H of a hole when the wind is up). The 18th is a long par 4 played right into the teeth of the wind. Standing on the tee, the green looks as if it's miles away and feels like a Par 5, and with the Andaman Ocean on the left, Out of Bounds on the right and the wind stronger than at any other hole on the course, this is an extremely intimidating tee shot. The key is to hit it in the fairway because you're most likely going to be left with a long iron or more likely a fairway wood for your second. Your approach shot can be as daunting as the tee shot as this long elevated green can play as much as three clubs difference depending on the pin location. I made a 20 footer for par here after hitting driver and knockdown 3-wood just short of the green, and stubbing my relatively easy chip. I've made better Par's, but that one certainly made the beer tasted better and eased the pain of an otherwise mediocre round.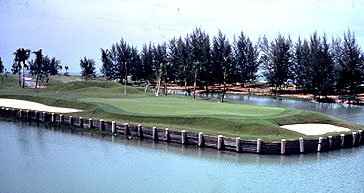 The small and unpretentious clubhouse doesn't cater to every whim and desire, but the views from the 19th look out across the 18th hole and out towards the Andaman Ocean will get your mind of that. It's actually a breath of fresh air, both figuratively and literally, to have an after-round drink in this unpretentious clubhouse, especially if you've seen the opulent and usually unspectacular monstrosities that (un)grace many of Thailand's fine golf courses. There are no state-of-the-art course management systems, no award-winning cuisine nor five-star service, and part of the charm of Thai Muang Beach is it's unashamed lack of effort to make this into a world-class facility. What you will find is cold beer, some good nibbles to keep you satisfied on the ride back (it's about a 45 minute drive from Patong), a relaxing atmosphere where you can sit back and make yourself at home amongst the local staff who have that contagious and charming Thai smile that can lighten up even the gruffest of faces.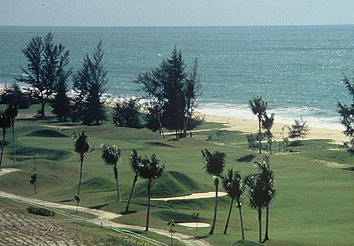 Many players are disappointed with the course conditions and think the course needs a major upgrade and while this may hold some truth, it would certainly be a shame if it were turned into one of the hundreds of green parkland type courses that are so prevalent in Asia. The more knowledgeable golfer who has played on true-links style courses will appreciate the hard-dry fairways and variety of different shots it allows you to play. Thai Muang Beach has a charm and atmosphere not found anywhere else in Thailand and if you're wanting a laid back golf experience on one of Thailand's more interesting and only true links style course, look no further than Thai Muang Beach.