Golfthink In The News
Interview with Kevin Beauvais
-
CEO of Royal Garden Resorts PCL
Interview and Photographs By Kim Inglis
I
've golfed for approximately eight years now. I started playing after moving from Boston to become General Manager of Marriott in El Paso, Texas and I guess it just seemed like a good time to start since we could play year-round. My wife (Therese) also started at the same time.
I just like getting out there and enjoy the exercise.
I'd like to get better and understand the mechanics more so I can play more methodically. It's frustrating when you're out there and (for example) you've got a side hill lie and you don't know what to do.
I love getting outdoors.
For me, living in Bangkok, that's a really key issue, to be able to do something different and to forget about work for a few hours.
I've only played maybe three times in the last six months, and it was for business.
I enjoy playing with Therese but it's not really competitive as she's much better than I am! If there's a team event on, it's always Therese that gets asked.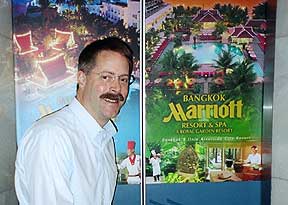 The Chairman (William E. Heinecke) presented me with a new Ping Eye Driver at a staff party as a symbol of helping the company "drive" to new heights.
I have two favourite clubs, a Taylor Made 7-wood and a La Jolla utility wood called "The Knife". It's a remarkable club and I can hit that out of almost anything. I hit those clubs great and I think if I played with those two clubs, a middle iron, wedge and putter, my score would probably be much better.
Thai Country Club is the only golf course in Thailand that is managed extremely well.
For me, it's like an oasis in Bangkok. From the moment you first arrive, everything is so well done. From the Pro Shop to the rest stops, it's something special. I guess being in the hospitality industry makes me appreciate that service excellence.
My top five golf experiences haven't had anything to do with my score.
It was the times when Therese and I played together, with just the two of us. There was one time when there was no one ahead of us, and no one behind us, and that was really something special and stands out in my mind.
It (golf) gives an opportunity to spend quality time with business associates and to meet business associates
It gives you insights into people that you might not otherwise discover over a dinner or lunch.
If a person wants to cheat on the golf course, that's their prerogative.
How they act and behave on the golf course is entirely up to them. Having said that, I don't like playing for money, but if we were, and they started cheating, that's different. I don't bet on the golf course because I might as well hand the money over to them before we start! I'm out there for fun, not for the competition.
For me, cell phones are a huge distraction on the golf course.
I personally turn mine off. You start receiving messages, your mind wonders off and you end up not giving 100% to either your game or work. You've got to take control of things and leaving your cell phone on while you're playing isn't the answer.
I run the business seriously and am willing to spend the time to be great at what I do.
There are no similarities between the way I approach golf and business. The time will come again for golf, but right now it's not a priority.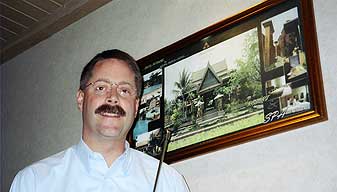 I've spent 25 years with Marriott, starting out as a part-time van driver while going to college.
I rose through the ranks at various properties and came to Thailand in 1997 opening the JW Marriott Bangkok and from there was appointed Area General Manager for Thailand. One thing lead to another and here I am. Going from a large organization to a small one, the biggest difference is there's no bureaucracy. It's very simple and straightforward, and obviously I enjoy doing what I do.
Mr. Heinecke is very driven; he has 10 new ideas everyday.
He pushes everybody to new heights and helps take each of us to levels of excellence that we otherwise may not be capable of on our own. I love his passion; he has heart and soul, which is something that can be seen more easily working in a smaller organization.
In terms of golf and Royal Garden Resort properties, packaging is important and we look to service providers to make it easy for customers to play golf.
At all of our locations, adding value to our existing products and ease of booking is important. Selling and creating golf packages is one of those ongoing challenges that we'll continue to work hard on.
We've got a new Spa treatment specifically designed for golfers.
I personally feel much better and prepared for a round of golf if my body feels healthy. It'll be opening second quarter of this year in our Mandara Spa's. It's called "Golf Magic" and you receive the treatment the evening before tee off.
In order to stay ahead, I think one of the keys is to stay focused on our associates who deliver the services, to ensure they're happy so that they deliver the service as best that they can.
Secondly, for the company, we need to drive revenue by constantly finding new ways to find customers so we're not just trading customers with other hotels.