Golfthink In The News
Anantara Resort & Spa Golden Triangle
- The New "Gold" in the Golden Triangle
Story By Kim Inglis
Photographs Courtesy Anantara Resort & Spa
B
ig city dwellers looking to get away from it all can experience the ultimate in stress-free relaxation at the wonderful five-star Anantara Resort & Spa Golden Triangle. Literally hidden away unassumingly on a hill side overlooking Thailand, Burma and Laos, the Resort's enchanting atmosphere and intriguing mystique captivates and attracts you into it's casual luxury from the moment you arrive.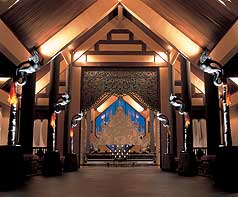 The property, opened in October 2003, harmoniously blends in with the 160 acres of indigenous forest and looking from the Mekong River below, it wouldn't be difficult to miss this seductive retreat if you didn't know it was there. Colorful tropical gardens landscaped by award-winning architect Bill Bensley are cleverly coalesced with the natural surroundings. Thailand, Burma and Laos can be seen while taking a refreshing swim in the infinity edge swimming pool, and the evening is introduced by live traditional Thai music being softly played by two local young musicians.
All 90 rooms (including 13 luxurious suites) have balconies with panoramic views over the three countries and feature terrazzo tubs for two people in the through-flow bathrooms. Interior designer John Lightbody from Abacus Design used reconditioned teak throughout the property and the locally made arts and crafts ensure the local culture is prevalent throughout. Whilst the attraction of the resort is its tranquility, peacefulness, and contemporary classic Thai architecture, go-getters will find a surprising myriad of activities to take part in, not least of which is some great golf.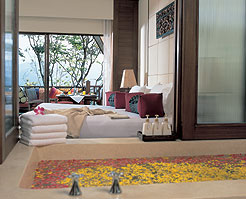 Three courses, each with their own personality and style, make up what could be the Green Triangle, two of which are featured on the following pages. Regina Golf Course, the remaining course in Burma is the closest and most unique, but if you're in this region where three countries meet, happen to be staying three days (or more), you might as well go play the "Green Triangle" of Santiburi Country Club, Waterford Valley Chiang Rai and Regina Golf Club.
For non-golfers, the resorts attractions are its own elephant camp (see side feature) and Thai cooking school offering a chance to learn how to make some of the more delicious Thai dishes. A new menu is offered everyday, and of course tasting your creations is all par for the course. Not that you'd want to, but at some stage you'll need to leave this hideaway in the hills and the "Three Countries Tour" is an excellent one-day excursion featuring breakfast, lunch and dinner in Laos, Burma and Thailand respectively.

A number of shorter and half day activities can be found including the nearby (walking distance) Opium Museum, which is a fascinating journey into the drug that made this area famous. (Burma and Laos are the second and third largest illicit opium producing countries in the world) For the less health-conscious, a quick long tail boat ride to Don Sao Island in Laos, 20 baht to the local police (legal), and you can stock up on tax-free cigarettes, try the Laotian coffee and if you're really feeling invincible, test the Laotian whisky. The only thing that this powerful concoction is missing is a "Hazardous to Your Heath" label.
For fitness enthusiasts, the resort has a Sports Center with all the usual facilities including Gym, squash court, tennis court, table tennis and sauna, and the area has some excellent mountain biking trails as well as some peaceful walking and jogging tracks. Of course, after a day out your body will be a bit tired and in need of some care. Luckily, you're in the right place.
The Mandara Spa at Anantara brings new meaning to serenity and relaxation. The Spa, as does other parts of the resort, has a modern-medieval feel as you stroll down to the reception and begin your journey into rejuvenation and sensual splendour. Thai Spice Aromatic oil and a hint of lemon grass get you in the mood, and the only worry you'll be left with is choosing what treatment to indulge and spoil yourself with. Each of the five teakwood and terrazzo suites are designed for couples and privacy is respected with individual shower and steam rooms. Staying at the resort without treating yourself to one of the many body and soul improving treatments is a bit like going to Scotland and not playing the Old Course - Quite acceptable, but you're really missing out on one of the main attractions.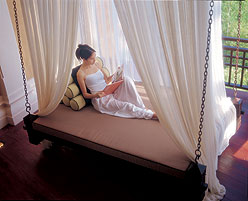 As with all the impressive Royal Garden Resort properties, it's the attention to the small things that help to make this unique resort a "must-stay" on your next Thailand trip. The Anantara has come up with the "Suite Dreams Pillow Menu" - Not that you'll need help sleeping here, but a carefully and cleverly designed selection of eight different pillows ensures all of your pillowing needs are catered to - The Suites also feature a revolving entertainment cabinet, so you can watch TV from the living room or before you drift off for an afternoon snooze. "Dining by Design" is for the romantics in even the staunchest of us. Guests can enjoy personally designed dinners in the setting of your choice. Your table will be custom-decorated and this is the perfect way to make your non-golfing spouse feel better if you happen to have left them at the resort while you selfishly enjoyed yourself at of the three great courses nearby.
The Anantara Resort & Spa is the new Gold in the Golden Triangle and very few places in Thailand share Anantara's unique and extraordinary experience. With the Green Triangle of Santiburi Country Club, Waterford Valley Chiang Rai and Regina Golf Club across the border in Burma, the Anantara Resort & Spa is a destination in itself. Turn off your cell phones, leave your laptop at home and bring your golf clubs. Three countries, three golf courses and three bits of advice that make for Thailand's most relaxing golf holiday.
THE BIG ATTRACTION(S) OF ANANTARA
The Elephant Camp at Anantara is designed as a traditional northern Thai "mahouts" village and offers a variety of programs for guests to interact and observe these fascinating animals. For the doers and more adventurous, a three-day mahout course will teach you the basic commands, how to "drive" an elephant as well as taking it for a bath and daily care. The Anantara's own nature ranger runs the course, which is based on the professional mahout training course run at the Thai Elephant Conservation Centre. The 3-day mahout course costs THB 10,000 and includes four hours of tuition per day and shorter one-day courses can be booked for THB 4,000. If you can't get yourself out of bed earlier enough (the course starts at 6:30a.m each day), or you'd rather be driving a golf cart than an Elephant, there's other ways to enjoy their presence.
You can watch the elephants and their mahouts take a bath each day at around 3:00p.m, which is a good way to get up-close but not too personal, and provides a good laugh watching the trainers skillfully avoid taking an unwanted swim as they manoeuvre themselves as the elephants lunge themselves into the river and make sure all parts are clean. Also available are elephant trekking and the Elephant breakfast. For more information on these or any activities in the area, contact the very friendly and helpful guest services at Anantara or visit www.anantara.com